C O V E R F E A T U R E
Could a Gun-Loving Libertarian With No Campaign Budget Beat Jesse Jackson Jr.?
Not even if she were a Kennedy. But Stephanie Sailor's not trying to win--she's just trying to get heard.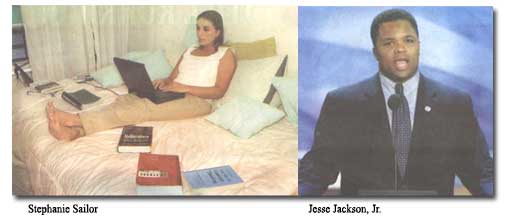 Author: Jeffrey Felshman Date: October 15, 2004 Appeared in Section 1

Stephanie Kennedy Sailor is running against Jesse Jackson Jr. for the Second District congressional seat, but she won't be making any speeches, shaking any hands, or kissing a single baby. She's running her campaign almost entirely on the Internet from her home in Fort Lee, New Jersey.
As she sat at a table in the Milk & Honey Cafe in Wicker Park early last month, Sailor's scoopneck shirt exposed a fresh surgical scar below her collarbone, to the right of her neck. Surgery in August for a condition called thoracic outlet syndrome had left her unable to sit at a desk for more than an hour without pain. Sailor used to live in the neighborhood, a few blocks from the cafe, until about three years ago, when she moved to Jersey. "My legal residence is in Illinois," she says, but "my primary work is in New Jersey, and all of my doctors are in New York City." She hasn't set foot in the Second District, which covers the south side and far-south suburbs, and unless voters there visit her Web site, www.kennedysailor.com, they probably won't ever see her name until they get their ballots.
All of which raises the question of whether Sailor can possibly be serious. But she insists she is, though "participating in the political system turns my stomach. I'm just trying with my limited resources to figure out a way to bypass the traditional system, in order to get things accomplished," she says.
What kind of things? At Milk & Honey Sailor leafed through a thick book with a green cover titled the Cato Handbook for Congress, the recommendations of the libertarian Cato Institute for the 108th Congress. If Sailor had her way she'd get government out of health care and education and dismantle social security. She's highly enthusiastic about the expiration of the assault weapons ban. If elected she promises to give back her salary and turn down congressional perks like a pension and free health care. In fact, she plans to keep her other jobs as a full-time database administrator and, her health permitting, as a gun instructor.
Sailor's also in favor of school choice. She promises to use zero dollars on her run and asks that any donations be made instead to the Jessica Fund, a scholarship program she's set up and named after her opponent's daughter. "Stephanie Kennedy Sailor created The Jessica Fund to help kids bypass failed government-run schools so they can have access to a private, competitive education, just like Jessica," her Web site says. When the election's over Sailor plans to hold an essay contest in which applicants will explain why they'd like to go to private school, then distribute any money raised to the winners.
This isn't Sailor's first run for Congress, but it is her first as a Kennedy. In 2000 she ran against Luis Gutierrez in the Fourth District as "Stephanie Sailor" from the Libertarian Party and received 11,476 votes, or 11.3 percent. In 2002, 4,887 voters punched their chads for "Stephanie vs. the Machine Sailor" in the Ninth District--just 3 percent of the total, but that time she was up against both a Democrat, Jan Schakowsky, and a Republican, Nicholas Duric. This year she's changed her nickname to fit the opponent. "The only name that can stand up against the Jesse Jackson family name is a Kennedy," she says.
She's also downplaying her party affiliation, leaving it off her Web site entirely. "It's a marketing strategy," she says. "There's a stereotype, I think. I've heard people describe Libertarians as nuts, homeschoolers, freaks, weirdos, frustrated conservatives who want to do drugs."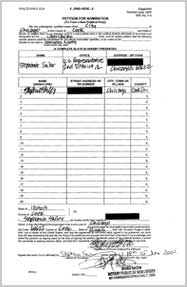 Sailor's nominating petition contained one signature: her own. She had the petition notarized, then had a member of the Libertarian Party present it at the Board of Elections on the last day of filing. The Democratic Party had a week to challenge it (the specific number of signatures required for a candidate to get on the ballot is calculated on a case-by-case basis by election officials, but typically thousands are required). They didn't. The Democrats were "too smug to check," she says.
The day we met would be Sailor's last in Chicago for a while. She was due back in New York to make a doctor's appointment the following day. Thoracic outlet syndrome is actually a collection of syndromes caused by the abnormal compression of nerves and arteries in the shoulder. "I had stopped using a mouse on my right side," Sailor says. "Things like holding a glass, I would drop it. I was losing my ability to grip." Her doctors had tried Botox injections to relieve the symptoms, but these worked only briefly before the pain and numbness came back full strength. "By the time I decided to have surgery I was in a panic because it felt like someone was gripping my bicep. I couldn't sleep anymore," she says. A muscle in Sailor's neck was removed, along with her top right rib. The NYU surgeon who did the work is one of a handful in the country who do the surgery.
But Sailor's problems don't stop there. "I have many medical conditions," she says. "I have severe osteoarthritis in both of my feet and a little bit in my right ankle, my right hip. I also have osteoarthritis in my lower back and degenerative disk disease." These aren't helped by her asthma, the torn ligaments in her right hip, or other tears in her hip socket. "It's painful for me to walk even a block," she says. "I feel like an 80-year-old in a 31-year-old body." She visits doctors at least every other week, and has plans for more surgeries down the road.
Sailor's father was in the navy, and when she was growing up her family moved several times, with stops in Connecticut, Idaho, Indiana, Maine, upstate New York, and Michigan, all before she'd turned 18. She started babysitting at age 9, was a line cook in a restaurant owned by a friend's parents at 12, and worked various restaurant jobs on summer vacations before enrolling at Eastern Michigan University to study fine arts. She thinks some of her physical problems might be related to childhood labor: "If I could do things over I would have skipped the restaurant work because it was hard on my body. I would finish working my shifts and I could barely walk."
In school in Idaho City, Idaho, Sailor's class of 40 students always ran short of paper and pencils, while in Bridgeman, Michigan, classrooms were carpeted and equipped with a TV and a VCR. "When I moved around and attended different schools I was exposed to how government schools are dependent on property taxes," she says. "It's not equal and some kids really get left behind because they're not allowed a choice." She would fix that by turning all public schools into private schools and giving parents a standard allotment to pay for them--not exactly small government, it must be said.
As a newlywed new to Chicago in 1996, Sailor caught pneumonia and went to the emergency room at Cook County Hospital. Despite complications caused by her asthma, she says, she waited eight hours for medical attention. After "the most horrible medical experience in my life" she looked for options to public hospitals and found many private hospitals had charity funds available. Charity in a private setting was better than mismanaged care in a public one, she decided. "My medical ailments helped me form the beliefs about not having government in my health care," she says.
Ultimately, however, it was crime that propelled Sailor into politics. After personally experiencing two break-ins and an assault by rock-throwing kids and hearing the stories of friends who'd been robbed at gunpoint, she decided to explore self-defense options, including firearms, despite Chicago's weapons ban.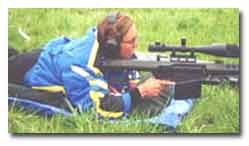 Sailor didn't know much about the Libertarian Party when she signed up for a free course in gun safety hosted by John Birch from the pro-gun organization Concealed Carry and Matt Beauchamp, then the chair of the Libertarian Party of Chicago, at a shooting range in Elmhurst. But she wound up on the party's mailing list as a result. In the year following her first course, in the summer of 1999, Sailor got divorced, hosted a cable-access show called Guns, Drugs, and Chicks, and spoke at a gun-rights conference in Arlington, Virginia. Since then she's become a regular at the Boomershoot, an annual event in Idaho where gun nuts shoot at targets wired with explosives. "It's very satisfying, like combining fireworks with guns," she says. "Fun!"
Sailor didn't join the NRA, but the mailings from the Libertarian Party did what they were meant to do. "I started to read up on libertarianism and I became involved on a sort of activist level with the Libertarian Party of Chicago," she says. In 2000 the party asked her to come to its aid by running for Congress. "They'd try to run people in districts where the incumbent was running unchallenged. So it was a kind of easy way to get on the ballot." She was told that she wouldn't have to do anything, just get signatures on the nominating petition and let the party do the rest. "I said, wait a minute, I don't have to do anything, I don't have to pay any money, I don't have to shake hands? I really didn't have the money and I didn't have the time, either. They said, 'Yeah, we need candidates to run.' So I said OK," she says.
She's been running ever since. "I'm getting better with each campaign, learning new strategies," she says. "And because the Internet has become more accessible that gives me more power."
Sailor estimates that five times as many people have Web access today as did then. At the same time, she admits she doesn't know how many Second District constituents are wired. Nor will she stand on street corners to find out. "I physically could not go out and stand for hours," she says. "I can't do it."
Sailor is willing to do some campaigning outside her bedroom. She's e-mailed Jesse Jackson Jr. dozens of times since August asking for a debate. (He hasn't answered.) She'll appear on public television's candidate forums if invited. (She hasn't been.) But she's happy enough to put up a Web site and see what sticks. "I like the cyber campaigning because even after the election the site stays up, and it's still a tool to educate the masses," she says. And though she gets little or no response from voters until Election Day, Sailor professes to like it that way: "It's funny, because I wonder, gee, what's going to happen this time."


Photos/Charles Eshelman, AP/Wide World Photos and Boomershoot.com.

Back to KennedySailor.com News Coverage Page