April 29, 30 (precision rifle clinic) and May 1
Interested in the newest and most extreme in extreme sports?
Have a real blast with guns and explosives!

Precision Rifle Clinic After Action Review
Boomershoot Preparation Pictures (more to come, check back later)
Boomershoot 2005 Pictures (more to come, check back later)
Boomershoot 2005 video (7.5 MBytes, high resolution version is here -- 39 MBytes)
Jason Mount Video
Jason Mount Images
Jim Richardson Images
Analog Kid Report and Pictures
FishOrMan Report and Pictures
Leroy_Brown_242 Pictures
Xenia Report and Pictures


Minimum Gun Safety Rules
| | |
| --- | --- |
| | Always keep the gun pointed in a safe direction. |
| | Always keep your finger off the trigger until ready to shoot. |
| | Always keep the gun unloaded until ready to use. |
These are the bare minimum rules which you must follow while at the event. You MUST have them (or the equivalent thereof) memorized. Please read the additional rules and clarifications. These and other rules will be explained at the shooters meeting before you take your gun out of its case.

Boomershoot Blogging
Several people have made blog postings about Boomershoot. Some have Boomershoot 2005 banners, some just a post or two. Many are attending. If they generate 100 or more unique hits on Boomershoot.com more than a week prior to Boomershoot 2005 they get a free entry to the event. Here is a partial list with the number of unique referrals since December 1.

How to Enter The Main Event
The Boomershoot price and entry is completely separate from the Precision Rifle Clinic. Sign up for both to make the most of your weekend. The Precision Rifle Clinic registration is done directly with Eugene Econ and currently only has opening on Friday.
There are about 60 shooting positions available. Each position costs $100.00 ($95.00 if you are Lewiston Pistol Club member). There were significant discounts for early entries (prior to January 2005). The prices include Idaho sales tax. If you want to share a position with another shooter there is an additional, but reduced charge for them. No more than three shooters may share one position. See the printable entry form for detailed pricing. If you wish to give someone a gift of a position at the event send the check made out to "FlashTek" for the proper amount and mail it to the address below. On the check or on a short note say, "Gift for John Doe" or whoever. Print out the gift entry form and have them send it in at their earliest convenience. Their position will be held for them, but they must send in the form two weeks prior to the event so they will get all the additional necessary information.
Send your entries to the following address:
PPS Boomershoot
P.O. Box 3745
Moscow, Idaho 83843-1916
NOTE: The '1916' on the zip code is essential! It goes to the wrong post office without it.
The entry form has the Minimum Gun Safety Rules which you must have memorized. Or, if you prefer, Jeff Cooper's four rules of safe gun handling. Memorize them. You will be asked to repeat them (take your pick, either the NRA or Jeff Cooper version) when you show up. Think of this as an I.Q. test. You don't want to look stupid and go home without shooting. Pass the test. You will be expected to follow the rules at all times. If you don't follow them you will become a non-shooter for the remainder of the day. Refunds for safety violations will be very unlikely.
You will get an email response confirming your entry. If you don't get it then send me an email to find out if it has been lost or I have just been lazy in picking up my mail and/or getting the confirmation out. If you want to reserve a slot then find a partner to share it with you later that is fine. Send in your entry form with your money then when your partner is ready to send in their entry they should just put a short note on it saying they are sharing a slot with you and send it with the additional money due.
All entries must be received by April 26th. Make the check out to FlashTek. You MUST have web access and an email address. Also, I need phone numbers so that I can contact you at the last minute in case the event must be canceled for some reason.
See General Information for more details on what to bring and expect on site.

Current Status
April 24, 2005
I received this from Gene Econ this morning:
Joe:

Please post that I have five slots available for Friday the 29th.

I am filled on Saturday.

If anyone is interested they can contact me or show up Friday morning and I will slot them.

Thank you

Gene Econ
April 22, 2005
Six slots are still available. Including workers and precision rifle clinic instructors there are 94 people planning to shoot at this event.
April 21, 2005
Seven slots are still available.
April 17, 2005
Nine slots are still available.
Dinner plans for Saturday night are finalized. Please RSVP if you want to attend.
April 12, 2005
12 slots are still available.
We put on a small private party last weekend. The ground was a little wet in places but things went well overall. I wrote up the event from my view point here. See the pictures here. You have to see the pictures of the finale at the bottom of the page.
April 1, 2005
16 slots are still available.
March 29, 2005
I updated the distribution of targets. It's now 720 targets instead of the 610 I had planned before.
There are several people that say their entries will be mailed this week. I expect we will be down to about 15 available slots by this time next week.
March 27, 2005
Rain and wind caused the postponement of the tests on the new targets.
March 20, 2005
19 shooting positions remain.
The test target bodies for the 6" and 7" inch targets have arrived and tests will be performed next weekend.
March 12, 2005
Interesting email in the last couple of days. A producer for the Seattle TV show Evening Magazine wanted information on when the next event is. It appears they will be attending. More details in my blog posting.
Red probably will bring his anvils back this year. Says he can launch an anvil up to 100 feet in the air now. Plan on an after lunch show. You might also consider the possibility that parking further away from the shooting line has advantages as well as disadvantages.
March 10, 2005
21 positions remain.
Last Saturday Ry and I did a bunch of tests and discovered why we had problems with detonations last year. It was the target bodies we used. The new square boxes work just fine. We also came up with a new mix that is more sensitive and more powerful. New target bodies have been ordered and the old ones, the round ones in the pictures below, will be scrapped.
February 27, 2005
I spent most of the day working on target bodies. All the 8" target bodies needed for Boomershoot 2006 have been appropriately reduced in volume to reduce the neighbor complaints. I painted a bunch of target lids to make the shooter/spotter dialog easier. I painted the appropriate number of new 4" square targets for the event too. None of the 6" target lids have been painted yet. I'll do those sometime in March. Current results are as shown below.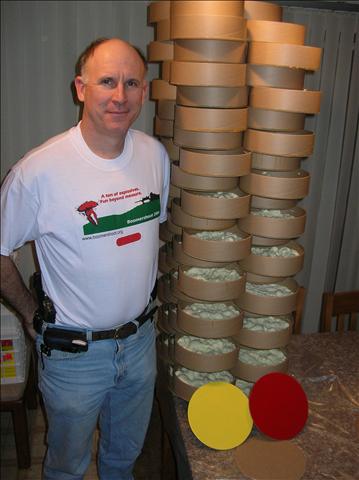 The interior volume of the target bodies has been reduced by about 1/2 from last year.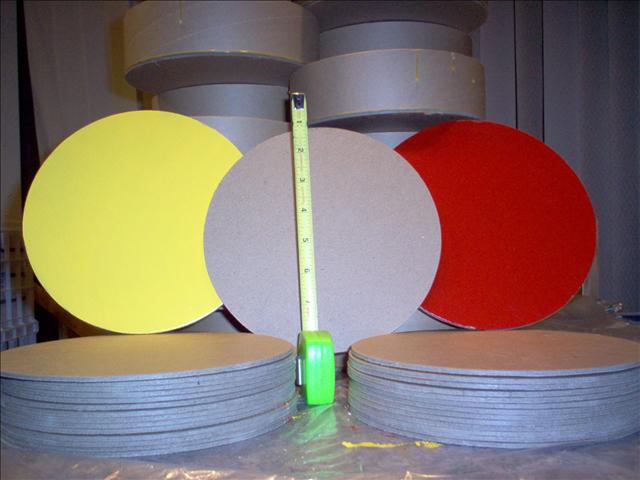 There will also be white lids.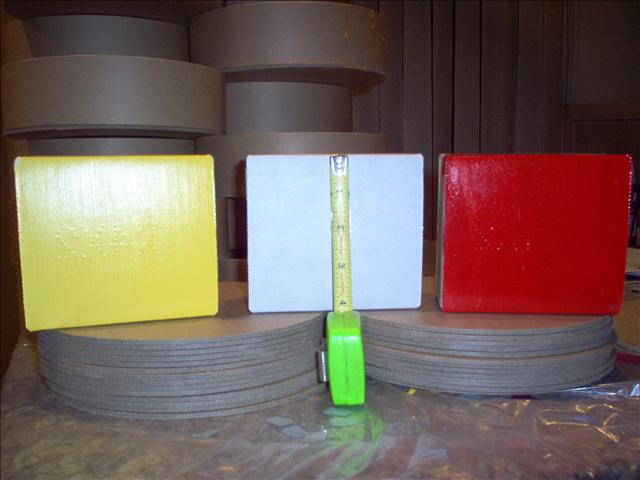 Interior dimensions are 4x4x2 inches in just these three colors.
February 25, 2005
22 positions remaining.
February 20, 2005
29 positions remaining.
February 12, 2005
30 positions remaining.
January 29, 2005
32 positions remaining.
January 21, 2005
34 positions remaining.
January 18, 2005
The clinic is now full.
January 17, 2005
36 positions remaining.
January 15, 2005
37 positions remaining.
I updated the size and distribution of targets for Boomershoot 2005.
January 14, 2005
40 positions remaining. Only two slots left for the clinic however.
January 12, 2005
Lots of bloggers mentioning Boomershoot. I added to the list.
The new mix we tested ten days ago was a disappointment. More tests are needed.
January 7, 2005
There was a burst of entries this week. There are still 42 positions available.
January 1, 2005
There are 46 positions still available. All discounts have expired now. However I am giving free entries to people that have blogs and generate 100 hits from unique IP addresses to boomershoot.com. See my blog posting for more details and the current list of bloggers that are saying something about this event.
I'm planning to do some tests on a new mix tomorrow. If preliminary indications are correct it will be slightly cheaper, more sensitive to detonation, more powerful per unit mass, and safer to work with.
December 17, 2004
Eugene Econ reports that he has four people signed up for both days of the Precision Rifle Clinic. It is his expectation that he will fill both classes.

You might wonder why such a rush on the class... Well Kim du Toit, with about 10,000 visits per day on his blog, made a posting about it here:

Boomershoot.com got the most hits in one day ever from that.

Get your entries in early if you want to participate.
December 12, 2004
Precision rifle clinic details are available now. Eugene has agreed to a two day clinic this year provided he gets enough entries for Friday. Also all his profits this year will go to 1st Brigade, 25th Infantry Division (Stryker Brigade Combat Team), "Lancer Memorial Fund".
December 11, 2004
There are 48 positions still available. Get your entries in by the end of the month to take advantage of the early-bird discounts.
Eugene Econ said he probably would have the details on the Precision Rifle Clinic to me sometime this weekend. I suggested that he might want to consider a two day clinic, Friday and Saturday, rather than just Saturday. It always seems to me that he doesn't have enough time to cover the material in as much depth as he would like. We'll soon see if he is able to take advantage of my offer or not.
I just recently read The Initiation and Growth of Explosions in Liquids and Solids. It's a very interesting book and our observations are consistent with their results. They did a bunch of tests that I think we can take learn from and probably adjust the sensitivity of our mix to better meet our needs. More experiments are needed on our part.
The neighbors asked us to "back-off" just a bit on the largest explosions so I found a way to use egg-cartons to add some air space to the eight inch targets.
I also have a new type of container I'm experimenting with. It's a box and has one end permanently attached so it's less labor for us. For this year they will only be used for the four inch targets.
October 30, 2004
There are still about 50 positions available. I expect entries will come in rapidly after the first of the year. Get you entries in soon to make sure you can participate and take advantage of the discount for entering before January 1.
Barb and I stopped by the Taj Mahal to drop off some target bodies and make sure it was ready for the winter. I forgot to bring the stuff to stop the corrosion on the battery terminals but other than that everything is fine for the winter. I took some pictures of the new grass we planted, which is growing well, and just before we left it started snowing. Our timing was perfect.
September 25, 2004
Barb, Ry, and I went to play in the dirt and make some serious modifications. Read about it and see pictures here. The short story is that we tripled the width of the target area at the tree line and extended the built up shooting area to the east by about 60 feet.
There are still lots of shooting positions available.
September 19, 2004
Ry and I did some clean up of the Taj Mahal and inventoried chemicals, stakes, and target bodies. I caught and killed four of eight mice we found with my (gloved) hands. We also destroyed a wasp nest and then swatted at them for hours after that as they swarmed around us. We didn't get stung but it was very annoying. Hope everyone appreciates how much effort goes into this.
September 18, 2004
Nine of the positions are taken. In previous years this would have been almost a third. But we believe we can handle about 60 shooting positions and if the weather cooperates (not likely at this point) we will expand that. People planning to participate should get their entries in soon. Not just because we might run out of positions but because there are discounts for early entries.
July 7, 2004
All things are a go. The precision rifle clinic will return with Eugene Econ. Details will be posted when they become available.

Size and Distribution of Targets
Target shapes and sizes have changed from last year. The 'lids' we used were causing a significant portion of our problem with detonation. The new targets still need some more tests but are looking good.
Target
Name

Active
Dimension
(inches)

Active
Depth
(inches)

Exposed face
(in2)

Approximate
Weight
(pounds)

4 inch
4x4
2.0
16
0.9
6 inch
6x6
1.0
36
1.0
8 inch
7 3/8 x 7 3/8
1 3/8
54
2.0
There will be 720 targets containing about 725 pounds of explosives. At the 380 yard line there will be about 250 targets. From 575 yards to 700 yards there will be another 470 targets. The Precision Rifle Clinic will consume about another 120 targets containing about another 100 pounds of explosives.

Email: Joe Huffman
Last updated: April 26, 2006