Palouse Practical Shooters 2002 Boomer Shoot


The event is over.
Other than the weather this event went well.
We had a candidate for U.S. Congress attend and help mix explosives (among other range duties).
This was a Friday, Saturday, and Sunday event -- three days for the first time. Friday and Sunday were the Boomer Shoots similar to previous events. Saturday was the precision rifle clinic put on by Eugene Econ and John Blackstock. Eugene has written up his After Action Review (AAR). Whether you attended the clinic or not, I think you will find this very informative.
The change to the three day format was to accommodate more people. I hated having to turn people away telling them 'come back next year'. I didn't turn anyone away this year -- except for one last minute request for Sunday. And he would have been able to shoot had he stuck around just a few more minutes.
| | |
| --- | --- |
| | Stories, pictures, and sound from the event. |
| | Clinic and Coaching Services (Gene Econ was back!) |
| | Status |
| | Plans |
| | Size and Distribution of Targets |
| | Ammo for sale, on site, the day of the shoots |
| | K.I.S.S System Shooting Benches These benches are used by some of the participants and are available for delivery to the shoot. |
| | Entry. |
| | Safety rules |

Status
05/12/2002
The event is over. Enough time has passed that I can start thinking about it again. The things I had control over went pretty well. The weather was poor. Snow, rain, hail, and wind. Oh, and I got a sunburn on Thursday while setting up. See pictures and stories for more info.
05/01/2002
Friday is back down to 90% full after some cancellations. Weather is looking a bit on the cool and wet side.
Friday:
Chance of rain at 5:00 AM, cloudy by 11:00 through the rest of the day. Winds from the west (we shoot to the south) at 13 to 14 MPH. High of 60F, low of 36F.

Saturday and Sunday are less detailed.

Saturday:
Chance of rain, high of 56F, low of 35F.

Sunday:
Chance of rain, high of 52F, low of 34F.

Another report says partly cloudy on Friday, showers on Saturday, and light rain on Sunday.
I will be out of touch via email starting tomorrow morning (Thursday, May 2nd). If you need to contact me you will need to do it via phone: 208-301-4254.
04/27/2002
Friday is 97% full.
I picked up the t-shirts and a few other odds and ends today. I think all that remains is the work and the weather.
The weather is always an interesting variable. From our experience over the last few years my son has decided that about October or so, when I set the date for the next spring, I should put the date up for auction to the highest bidder than wants rain on that day. This may not hold true this year, but it probably isn't going to be warm and sunny either. Current forecasts are a bit tentative of course, but it is forecast to be "cloudy" on Friday, and "mostly cloudy" on Saturday and Sunday. Highs about 60 F and the lows in the mid-thirties.
04/22/2002
Friday is 93% full with the remaining slots filled by 'checks in the mail'. Send me an email or call before sending in an entry.
The Precision Rifle Clinic is full. Gene also reports everything is on track for an outstanding day. Contact Gene for the status of his waiting list.
We are now closely watching the weather. Gene send me an email today saying he hoped it didn't snow. This is not entirely in jest. Today I saw one forecast for snow to occur tomorrow. Tonight I talked to my parents a couple miles away at the same elevation and found the ground is generally dry and although it is somewhat cool it's not particular wet. As long as the weather is no worse than the current forecast is right now it should be okay. I'm sure glad the event wasn't scheduled for April 13 and 14 this year. We had 50 to 60 MPH winds on the 14th and it was cold.
04/10/2002
Sunday has a waiting list of two slots.
If the entries that are claimed to be in the mail show up Friday is 87% full.
A special demo version of Modern Ballistics is available for Boomer Shooters. Send email to demo@modernballistics.com if you want a copy.
04/05/2002
Sunday is down to a waiting list of one slot.
Friday is 80% full.
04/01/2002
Sunday has a waiting list of three slots.
Friday is 67% full.
We are a bit closer to a shirt design. The "slogan" has been through a lot of debate is now effectively resolved. It will be "Guns. Explosives. I was there.". Final design of the artwork should be resolved soon.
03/26/2002
Sunday has a waiting list of two slots.
Friday is 63% full with enough people that claim "the check is in the mail" to push it to 73% if they come through. I'm beginning to believe that Friday will fill up completely.
03/22/2002
Sunday is 100% full now. If you want to be on the waiting list send me some email. The chances are pretty good at this point that someone will cancel and you will get a slot.
Friday is 60% full.
03/16/2002
Sunday is 93% full now (2 slots left). There is at least one entry that is "on it's way". Another that is likely to come in. If you want to attend let me know and I'll put you on the waiting list.
Friday is 57% full. If you haven't already entered and received confirmation then this is your best bet.
There will be a wheelchair accessible portable toilet on site by Thursday night and will stay there through Sunday evening.
03/03/2002
Sunday is 80% full now. There are two people that claim, "The check is in the mail" for Sunday, plus two other people have told me they will hand deliver their entries "right away". I expect Sunday will be full by this time next week.
02/28/2002
Friday is 47% full and Sunday is 67% full. The rate at which entries were coming in has slowed down some. There are still people that say 'the check is in the mail' so I expect at least Sunday will fill up. If you want to attend get your entry in soon.
I have acquired the last of the critical items and most all of the other materials for the event. About all we need now is labor and good weather. Since I think I have the labor resource covered and I can't do anything about the weather it's about as good as it gets for now.
The event will be catered by the same folks that did it last year. This is planned to be lunch only for Friday, Saturday, and Sunday.
There will be t-shirts available for sale. The design will be as shown at the top of this page. There will be a selection of sizes in probably 'white' and 'ash' on all three days. The price has not be set.
There was only one person that wished to purchase ammo on site so it is almost for certain special arrangements will be made for him and there will not be ammo available onsite. It is possible that our local Gun Runner, who is shooting on Sunday, will have some extra for sale but that hasn't been determined yet.
02/09/2002
Sunday is now 60% full. Friday is 40% full. This does not include one entry for Sunday that was supposedly put in the mail yesterday. Get your entries in soon if you want to play in May. If it continues to fill at the present rate Sunday will fill by the end of March. Friday will be filled by mid April.
I have ammo prices now. See "Ammo for sale, on site, the day of the shoots".
01/26/2002
Sunday is now just under 50% full. Friday is still just under 40%. Still lots of people out there that claim the check is (almost) in the mail. I have enough money in the bank now that I can order enough KClO3 in a bulk buy to get a price break and enough to last a couple years. Once that is in hand the only real potential obstacle will be the weather.
If you have sent in your check more than a day or two ago and I have not sent an email confirmation then send me some email and we will try and figure out what happened.
01/13/2002
Somewhat to my surprise Friday and Sunday are filling up at exactly the same rate. Both are just under 40% full. If all the people that have told me the equivalent of "the check is or will be in the mail" were to be entered the event would be 50% full.
I have all the 200 and 236 mL cartons I need for the entire event and I'm about halfway there on the 250 mL and 1 L cartons. There should be no problem in filling those requirements.
I believe the chemical situation is under control. I have been assured by my suppliers that the two chemical I am short on will be delivered by March.
[For number geeks only.] I have redone the spreadsheet probabilities to give numbers for .223, .308, and .300 Win for this years target distribution. On line 12 set ONE of the columns under .223 Rem, .308 Win, and .300 Win Mag to '1' and all the others to '0'. The numbers in the table below (lines 16 through 44) will change to reflect the number of expected shots. The bottom line is the number of expected shots for the entire event varies from 2388 to 3157. It's sort of interesting, with the .223, the number of expected shots as a function of range goes up as the distance increases. With the .300 Win Mag, the number of shots goes down as the range increases.
12/19/2001
More target size and distribution changes. I found a 250 mL (8.45 oz) foil juice container that I can use that will let me get more targets in the magazine so I won't have to make as many the morning before the shoot. It has almost the same frontal area as the one pint milk cartons but is about 1/2 the thickness. I will use them instead of the one pint cartons. This changes the probabilities slightly too so I have updated the chart below and the Excel spreadsheet. I found a mistake in the 2001 probabilities spreadsheet anyway so those are fixed as well.
A local sporting goods store has agree to sell ammo at the event.
12/02/2001
I have redone the target distributions and even selected some new containers for some of the targets. See the spreadsheet I used to help get this "right" and compare it to the distribution used last time. It was obvious once I worked the numbers that the distribution used before was screwed up.
I've got a line on a cheaper source of KClO3, which allows me to increase the number of targets without running up a deficit. There will be about 70 more targets each day than there were last time. My experiments for a cheaper mix went well too. It still detonates with a high velocity .22 LR and should be a bit safer than the old mix as well.
11/19/2001
Gene and Mike have their clinic plans formulated and up on this web site. They also provided me with bio's for each (Gene and Mike). Even if you have attended several of their previous clinics you want to read the agenda for this one -- then sign up.
I did some more bridge modifications a week or so ago. My brother and I put some rock around the base of the foundation to help prevent it from washing out during the spring runoff.
More experiments on the mixture are planned for the next week sometime. It might be possible to reduce the amount of some of the (relatively) hard to get KClO3. It might also be possible to make some targets that generate a fireball -- assuming the field conditions cooperate wouldn't that be cool?

Plans
The last event was the biggest ever. On Sunday there were about 215 targets on the range for shooters -- more targets than ever before. Nevertheless the targets disappeared too rapidly because of all the shooters. The explosives magazine was completely full last time -- so without building a new magazine the solution is to reduce the number of shooters on any given day, have more than one day of shooting with a day in between to make more targets, and make the targets a little bit smaller on the average. Hence 30 shooting positions on Friday and 30 shootings positions on Sunday. Saturday I will be building targets while Eugene and Mike run the clinic. The size and distribution of targets has been done in a much more scientific manner than last time and is shown below.

Size and Distribution of Targets
The volumes and dimensions are as follows:
| | | | | |
| --- | --- | --- | --- | --- |
| Target Volume | Width (in) | Height (in) | Depth (in) | Exposed face (in2) |
| 200 mL (6.45 oz) | 3.5 | 2.5 | 1.56 | 8.75 |
| 236 mL (8.0 oz) | 3.0 | 2.3 | 2.3 | 6.90 |
| 250 mL (8.45 oz) | 4.2 | 2.5 | 1.56 | 10.50 |
| 1 liter (33.8 oz) | 6.7 | 4.0 | 2.44 | 26.80 |
Target sizes.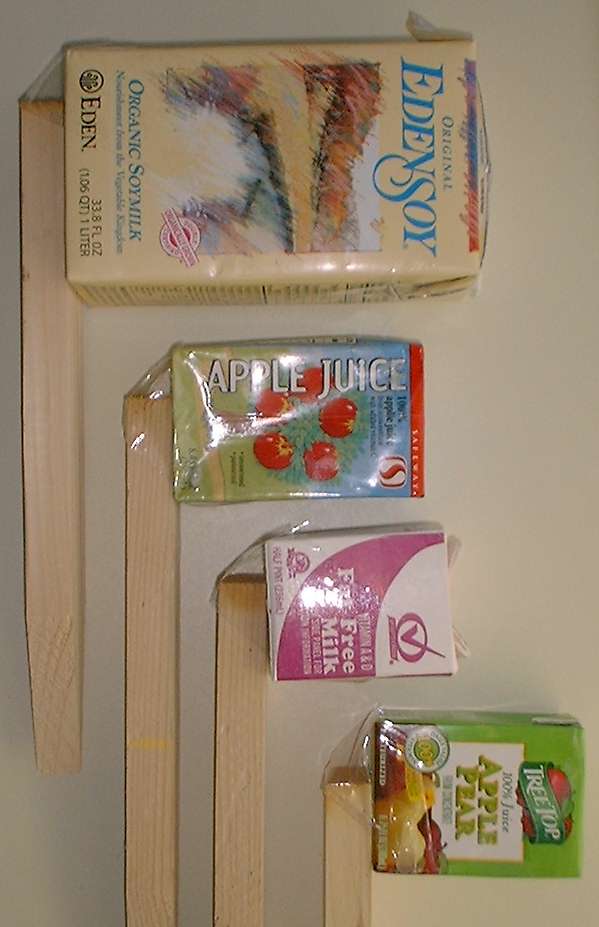 Top to bottom are 1 L, 250 mL, 236 mL, and 200 mL targets as they will appear on the range.
Except for the 236 ml (8 oz or 1/2 Pint) containers I have never used these at an event before. The 200 mL containers have more exposed area than the 1/2 P targets and I can get more in my explosives magazine. The 250 mL containers have almost the area of the 1 Pints I used last time, but are thinner, allowing more in the magazine. The 1 liter container is a particular soymilk container that much closer to square and has almost the same frontal area as the 2 Quart targets used last time.
| | | | | | | | |
| --- | --- | --- | --- | --- | --- | --- | --- |
| Range (yards) | 200 | 285 | 350 | 575 | 625 | 675 | Total |
| Number 200 mL | 60 | 0 | 0 | 0 | 0 | 0 | 60 |
| Number 236 mL | 0 | 80 | 58 | 2 | 2 | 2 | 144 |
| Number 250 mL | 0 | 0 | 0 | 28 | 16 | 10 | 54 |
| Number 1 liter | 0 | 0 | 0 | 0 | 12 | 16 | 28 |
| Total targets | 60 | 80 | 58 | 30 | 30 | 28 | 286 |
| Expected shots | 187 | 506 | 514 | 524 | 525 | 538 | 2794 |
Target distributions.
I hope to have a few 'sissy targets' for people that are having problems even with their dedicated targets at 200 yards. These might be cigar boxes about 8" x 5.5" or a couple of 8" diameter paper/plastic plates stuck face to face with explosives in between. These will be put out on the 200 yard line during the lunch break and just be for a few select sissies.
If you are not a numbers geek, then you probably want to skip the following paragraph.
I did a lot of work with an Excel spreadsheet to come up with the distributions. I estimated the number of shots required to be 90% certain all the targets were cleaned at a given range and tried to make it roughly the same at all ranges within the constraints of my explosives magazine and the available target sizes. This same spreadsheet has the probabilities of hits at the various ranges and the expected number of shots to have a 90% chance of cleaning the targets at that range. It also has the calculations for the distribution used last time. It's pretty plain to see that last time the targets disappeared much faster than they will this time. The expected number of shots to clear the field ( with a 90% probability at each range) last time was 1451, compared to 2794 this time. And at 675 yards it only took an expected 137 shots to clear it compared to an expectation of 538 this time. Plus just the raw number of targets, 286 this time versus 217 last time.

Ammo for sale, on site, the day of the shoots
There was only one person that wished to purchase ammo on site so it is almost for certain special arrangements will be made for him and there will not be ammo available onsite. It is possible that our local Gun Runner, who is shooting on Sunday, will have some extra for sale but that hasn't been determined yet.

Entry
There are 30 shooting positions available on both Friday and Sunday. Each position costs $40.00 ($35.00 if you are Palouse Practical Shooter member). If you want to share a position with another shooter (or two maximum for a total of three shooters at one position) they may sign up for $25 ($20.00 for PPS members) additional. Example (assuming none are PPS members), you and your partner share one position, that would be a total of $65.00. $40.00 for the first position and $25.00 for the additional person. If three people share a position, then it would be a total of $90.00. To participate in both the Friday and Sunday events you would double these prices.
Send your entries to the following address:
PPS Boomer Shoot
P.O. Box 3745
Moscow, Idaho 83843-1916
NOTE: The '1916' on the zip code is essential! It goes to the wrong post office without it.
Please indicate which day you are signing up for: Friday May 3, or Sunday May 5.
Include a signed piece of paper with either the NRA's three rules (or see Minimum Gun Safety Rules) or Jeff Cooper's four rules of safe gun handling. Memorize them. You will be asked to repeat them (take your pick, either the NRA or Jeff Cooper version) when you show up. Think of this as an I.Q. test. You don't want to look stupid and go home without shooting. Pass the test. You will be expected to follow the rules at all times. If you don't follow them you will become a non-shooter for the remainder of the day. Refunds for safety violations will be very unlikely.
You will get an email response confirming your entry. If you don't get it then send me an email to find out if it has been lost or I have just been lazy in picking up my mail and/or getting the confirmation out.
I expect the event will sell out by the first to the middle of April, in the event that it doesn't all entries must be received by May 1st. Make the check out to FlashTek. You MUST have web access and an email address. Also, I need phone numbers so that I can contact you at the last minute in case the event must be canceled for some reason.
See General Information for more details on what to bring and expect on site.
If you want to attend the Precision Rifle Clinic on Saturday you must contact Eugene Econ directly.
Gene Econ
511 Hidden Forest Drive SE.
Lacey Washington
98513
(360) 459-3848
Email: eaecon@comcast.net

Minimum Gun Safety Rules
| | |
| --- | --- |
| | Always keep the gun pointed in a safe direction. |
| | Always keep your finger off the trigger until ready to shoot. |
| | Always keep the gun unloaded until ready to use. |
These are the bare minimum which you must follow while at the event. You MUST have them (or the equivalent thereof) memorized. Please read the additional rules and clarifications. These and other rules will be explained at the shooters meeting before you take your gun out of its case.

Email: Joe Huffman
Last updated: March 16, 2006